The Sandhills Publishing Cyber Center was the latest and most integrated of the (3) buildings CCS has completed.
In the two-room divide/combine training rooms, CCS installed 5500 lumen WUXGA Epson projectors mounted inside projector lifts, allowing the projectors to be concealed
when not in use. CCS also provided 137" diagonal Da-Lite recessed electric screens. Each room features an HDMI and VGA+Audio wall plate and a Kramer Via Connect Pro for
wireless presentation.
The audio system consists of (9) in-ceiling speakers in each room for sound reproduction and reinforcement. CCS also provided a wireless handheld and a wireless lavalier
microphone for each room.
The control system consists of an Extron media presentation switcher for source routing. In each room, a 10" Extron touch panel was installed. The touch panel controls projector
power, projector lift raise/lower, projection screen raises/lower, source selection, microphone volume, and overall room volume. In addition, the touch panels allow for room
configuration setup when rooms are to be combined.
Design, Project Management, Installation and Integration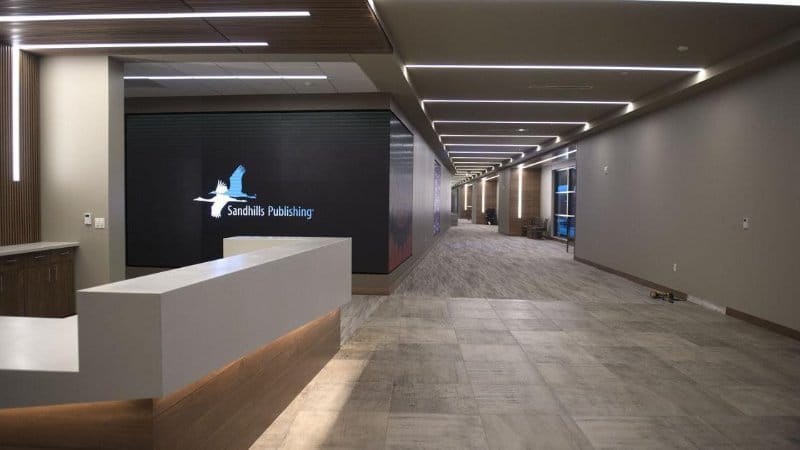 There are (3) smaller conference rooms each with a 5500 lumen WUXGA Epson projector and either a 94" or 109" diagonal Da-Lite projection screen. The rooms have HDMI
and VGA+Audio connectivity at the tables as well as Kramer Via Connect Pro for wireless presentation. The rooms are each outfitted with (2) ceiling speakers and amplifier. These
(3) rooms each have an Extron Media Link Keypad Controller that allows Sandhills Publishing to turn the projectors on/off, lower and raise the projection screen, source selection and
control the volume of the room.